Uno
A menudo bastante maltratado por la prensa -y hasta por el propio grupo-
Echo and the Bunnymen
marcó el fin de una etapa dorada para el cuarteto de Liverpool.
Dos muertes (la de su baterista
Pete de Freitas
y la del padre de
Ian Mc Culloch
) junto con innumerables problemas internos (
ego wars
mediante) le pusieron fin a una etapa superlativa del grupo: la que coronaron rascacielos estilísticos como
Heaven up here
(1981)
Porcupine
(1982) y
Ocean rain
(1983). Y por qué no, éste
"Echo and the Bunnymen"
.
Dos
El disco emergió de un proceso bastante tortuoso: a las idas y venidas de De Freitas (cuya salud mental tambaleaba por entonces) se sumaban las cantidades industriales de alcohol ingeridas por McCulloch, amén de su insostenible tratamiento de
rockstar
. Según cuenta la leyenda, una cohorte de adulones lo seguía a todos lados, cumpliendo sus deseos.
"Vivía en un planeta propio, distinto al del grupo
"
admitió el propio Mac.
Las sesiones de grabación, finalmente, tuvieron lugar en Colonia, Londres, Bruselas y Liverpool. La producción también generó disputas en el interior del grupo: tras cambios y alejamientos decidieron trabajar con
Laurie Latham
(otrora productora de los Stranglers) pero su trabajo dejó básicamente descontentos a los Bunnymen. La acusaron de "sobreproducir" el disco y llenarlo de capas y capas de teclados.
"Todavía hoy suena como la mierda
"
sentenció hace algunos años Mc Culloch, mientras que les Pattinson optó por el más elegante
"me gustan los temas, pero no las mezclas"
.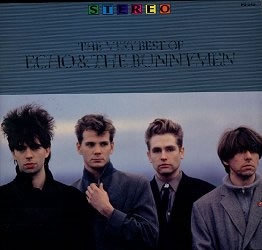 Tres
Y sin embargo, ahí está el
Grey Album
de 1987.
Un disco "menor" de aquel primer período, pero sólo si se lo compara con los grandes álbumes que ya mencionamos. Un disco que pese a todas las críticas, logra sostenerse en sus propios términos y con armas nobles. Sólido de comienzo a fin.
Dos canciones forman tándem al comienzo,
The Game
y
Over you
. Altamente melodiosas, forman un momento contundentemente pop. Bien vistas, por cualquiera de estas melodías pagaría oro hoy
Chris Martin
.
Bedbugs & ballyhoo
nos traía a los Bunnymen más retorcidos de la época dorada
, con un funk muy rico instrumentalmente (incluido el destacado solo de piano a cargo de
Ray Manzarek
, quien dicho sea de paso, alguna vez se declaró fan de la banda de Liverpool). Más adelante tenemos el vértigo psicodélico de
All in your mind
y la exquisita y nostálgica
Bombers bay
.
La segunda mitad (siempre pensamos en términos de lps de la era vinilo) volvía al pop con el mayor "hit" (muy entre comillas, por cierto) en toda la carrera de los Bunnymen,
Lips like sugar
. Un tema que muchos desprevenidos más de una vez habrán confundido con U2. Sin embargo el tema tiene "su" momento con el solo de tintes arabescos del gran
Will Sergeant
.
New direction
es otro de los puntos altos de
Echo and the Bunnymen
; un up tempo vertiginoso, que nunca descansa y
Blue blue ocean
empieza a despedir el álbum con su nota de piano melancólico.
Bonus personal
* Todavía conservo mi edición en vinilo de
Echo and the Bunnymen
comprada en el 1988 en la disquería Abraxas de Buenos Aires. Mi receta: ideal para días nublados. Un disco para caminar con auriculares por Liverpool o Buenos Aires.
* Recuerdo unas frías mañanas de invierno, escuchando

Bombers Bay

antes de salir para el colegio, sintiendo que una canción así me podía acompañar el resto del día.

Eso fue hace...¡veinte años! Cuánta nostalgia.
* También recuerdo mirar durante largos minutos esa foto de tapa, con los increíbles peinados de los Bunnymen en la foto de Anton Corbijn. Tengo esa imagen de ellos tocando con ese mismo look en la terraza de la HMV de Londres haciendo
Twist and shouts
.
Echo and the Bunnymen 1987
Ian McCulloch
(voice)
Will Sergeant
(guitars)
Les Pattinson
(bass)
Pete de Freitas
(drums).