Hace unos años solía pasarme los sábados a la noche dando vueltas con el auto por Buenos Aires, con la radio encendida. Un programa me servía como musicalización: el "Buenos Aires Blues", en la trasnoche de la FM Rock and Pop.
Ahí escuché por primera vez la impresionante versión en vivo de un tema desconocido (para mí) de Santana llamado "Treat". Una joya que años después me hizo ir en busca de este gran disco en vivo grabado en el Fillmore de San Francisco en 1968.
El cd doble editado en 1997 por Columbia recoge la actuación del grupo los días 19, 20, 21 y 22 de diciembre del 68. Aquel año crucial para la escena de la Costa Oeste, entre el Verano del Amor y Woodstock. Y poco antes de que
Santana
grabara su primer álbum de estudio, editado en 1969.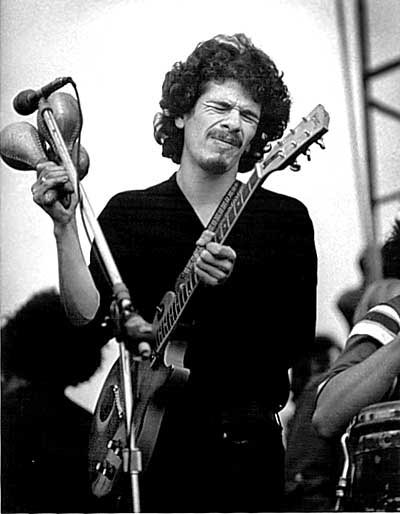 El set abre con el clásico
"Jingo"
(con la banda calentando
motores) y entra en territorios más funkies con
"Persuassion"
y, sobre todo, la groovísima
"Chunk a funk"
.
Pero detengámonos en esa gema que es
"Treat"
. Son nueve minutos y medio que empiezan parecidos a
"The great gig in the sky"
, de Pink Floyd -allá arriba, suspendidos en el aire- y comienzan a tomar ritmo a los dos minutos con los hi hats de
Bob "Doc" Livingston
.
Pronto la banda completa se suma a la fiesta -todavía de a poco, respetando la cadencia, el swing- y a los 4 minutos
Carlitos Santana
se larga con su solo, creciendo lentamente hasta alcanzar el clímax (percusiones, riff, ritmo alocado, todo en un batido perfecto) antes de volver a caer en la coda igual al comienzo.
Pura música, tocada en toda la cancha
.
Completan el set buenas versiones de "Soul sacrifice" y algunas rarezas no incluidas en otros álbums de Santana como "Freeway", "As the years go passing by" (de Albert King) "Fried neckbones" y "Conquistadore rides again" (original de Chico Hamilton).
Santana 1968- Live at the Fillmore
Carlos Santana (guitars & vocals) David Brown (bass) Marcus Malone (congas) Bob "Doc" Livingston (drums) Gregg Rolie (piano, organ & vocals).