Buenos Aires, 2004. En algún inhallable sitio de internet, un músico electrónico local recomendó este disco, cuando todavía existían las "recomendaciones".
Recuerdo aquellos años como los primeros y excitantes primeros momentos de las descargas de música. Veníamos de apropiarnos de temas sueltos aquí y allá pero ahora se hacía fácil, por primera vez, bajar discos enteros. De un tirón. Del aire a tu compu y de ahí a un CD.
Personalmente todavía me quedan pilas y pilas de CD-R que grabé en aquella época. Y entre ellos está éste de los Post Industrial Boys. Un grupo del que circula escasísima información en la web. Oriundo de Georgia, una remota ex república de la URSS. Un combo que nuclea músicos, cantantes y artistas visuales comandados por Gogi Ge.Org (seudónimo de George Dzodzuashvili). Editaron apenas dos discos, éste y "Trauma", en 2006. Y después, nada más se supo de ellos.
Y ya que estamos de recuerdos, me viene a la mente algún solitario verano en la ciudad, silbando y canturreando el primer y adictivo tema del disco. Ese de la genial letra: "post industrial boys have a wonderful voice/ they read some James Joyce to make a careful choice". La música es superlativa: puros silencios, electrónica mínima. Y una voz que lo envuelve todo y se mete en el inconsciente melódico. Podés estar todo un día con este sonido en la cabeza, te lo garantizo. Todo el disco vale por este primer momento.
"Lula" y "Cops and their wives" levantan un poco el pulso pero mantienen el clima enrarecido. Y la dupla "In the kitchen" y "Damshviddi", por su parte, bordean el Trip Hop con toques de un lejano Acid Jazz y mucho Ambient como materia prima. "Kampolina" es otro momento simpático, un jazz posmoderno para caminatas nocturnas.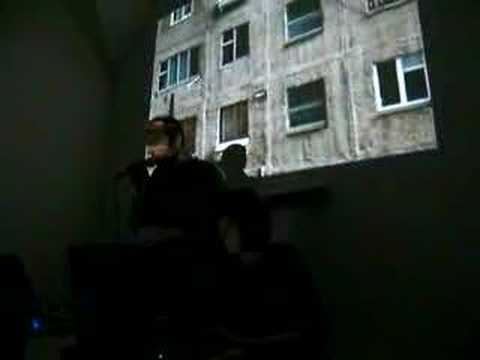 En realidad, todo
"Post industrial boys"
es un disco para la
late-night
. Para la escucha solitaria. Tiene aires lejanamente jazzeros. Climas de soundtracks de
suspense
. Material fílmico pasado a música y al revés. Un buen viaje
para suspender todos los sentidos, menos el oído
.
Entre tanta música que con los años desechamos, acá hay algo que quedó. Y que todavía sigue sonando.
Post Industrial Boys- discografía
Post Industrial Boys (2004) Trauma (2006).