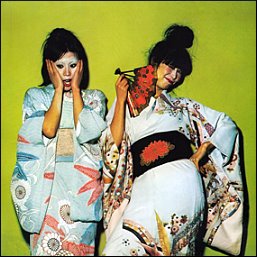 Género: canciones para energizar tus días de verano
Si a comienzos de los 70´s Roxy Music representaba una vanguardia completamente inalcanzable para el canon rockero, los Sparks parecían anticipar en varios años los guiños de la New Wave por venir.
Su disco más redondo, el clásico "Kimono my house", todavía suena -a casi 40 años de editado- asombrosamente nuevo.
Barroquismo teatral y un olfato pop avanzado para la época. Canciones épicas y estructuras osadas. Magnanimidad y dinamismo al mismo tiempo. Citas humorísticas -en sus letras- a la cultura pop. Un combo difícil de encajar en el imaginario rockero de primera mitad de los 70´s.
Brevemente, hay que decir que Sparks fue el dúo que los hermanos Ron y Russell Mael formaron en Los Angeles en 1970. Luego de un par de reseñas favorables en los tabloides británicos viajaron a Londres, donde reclutaron un nuevo line up para la banda. Firmaron para Island Records y entre diciembre del 73 y febrero del 74 registraron su tercer larga duración.
La antológica aparición del dúo en la BBC tocando "This Town Ain't Big Enough for Both of Us" (primer single del álbum) permanecerá en los anales de la historia del rock. "Amateur hour", por su parte, es Blondie un par de años antes: afilada, barroca, irresistiblemente pop.
El inicio dramático de "Falling In Love With Myself Again" le da paso a una balada de trasnoche y tintes épicos, mientras que "Thank God It's Not Christmas" y "Talent Is An Asset" adelantan el calendario New Wave al menos 5 años. "Equator" (el cierre del álbum) es un blues lisérgico, fuera de foco y decadente y "Hasta Mañana, Monsieur" lee a los contemporáneos Roxy con más desparpajo que los propios Ferry y Manzanera...
En fin, son muchos los tesoros a lo largo de esta obra maestra. A cierto exceso de barroqusimo (sobre todo en el falsetto repetitivo de Russell) "Kimono my house" le opone una fuerza arrolladora en ideas y dinámicas. Esas que lo convierten en un disco irresistible.
Energizante. Raro y adelantado. Siempre nuevo a todo.
Bonus
* "This Town Ain't Big Enough for Both of Us" fue versionada por Siouxsie and the Banshees (una de la tantas bandas influidas por los hermanos Mael) en su disco de covers "Through the lookin´glass" de 1987.
* Fan confeso desde aquellos 70´s, en 2004 Morrissey invitó a los Sparks a tocar en el Meltdown Festival.