Electronic fue el grupo que formaron dos celebridades del rock británico de los 80, Bernard Sumner y Johnny Marr, en los 90. Hoy en Ultravivido aprovechamos el día gris y lluvioso para repasar sus dos primeros álbumes.
Electronic
(Warner, 1991)
Si bien los coqueteos entre Sumner y Marr databan de mediados de los 80, no fue hasta finales de esa década que la unión cobró forma. Enterado del proyecto, en un primer momento se les unió Neil Tennant, de los Pet Shop Boys como colaborador externo.
A la edición de un primer y exitoso single ("Gettin´ away with it") en diciembre del 89 le siguió la grabación de su Lp debut. Y por diversas razones "Electronic" (1991) sigue siendo la mejor marca del grupo.

Por empezar hay varios buenos temas, casi siempre con el House y el Italo House como norte, profundizando el costado Europop que va venía experimentando New Order. "Reality" y "Tighten up" son pop de muy buena factura y "The patience of a saint"- con Tennant en voz- dialoga con el audio de "Behaviour", la obra maestra de los Pet Shop Boys de 1990.
La producción -a cargo del dúo- logró un sonido liviano y brillante, aunque con algunos altibajos. Tomó elementos contemporáneos del dance y los enmarcó en un contexto pop de 3 minutos. Una idea que en 1991 resultaba innovadora y universalista: seguir uniendo el dance con el universo pop-rock. Y si bien ciertos guiños y arreglos pueden sonar un poco envejecidos hoy, el audio en general sigue dando batalla.

Siguiendo con los temas, "Gettin´away with it" es pop inoxidable: música a la que jamás le pasará el tiempo, con las voces de Sumner y Tennant juntas, algo así como los Maradona y Pelé de la música electrónica de los 80´s. "Get the message" (el otro single del álbum) y "Feel every beat" anticipan la mixtura entre sonido orgánico (unas guitarras de Marr todavía con cuentagotas) y máquinas que el grupo expandiría en el álbum siguiente.
Raise the pressure
(Parlophone , 1996)
Cinco años de silencio y extensísimas sesiones de grabación sobrecargaron la producción final del segundo disco del grupo, "Raise the pressure". Sin embargo, el álbum tiene varios momentos altos, de gran música.
Por empezar, hubo una ayuda clave en la composición con la incorporación de
Karl Bartos
, de
Kraftwerk
, quien co-compuso 6 de los 13 tracks y se instaló con el grupo en Manchester durante la gestación del material. Por otro lado, el dúo expandió su mixtura de instrumentación orgánica (más guitarras y mayor presencia de
Johnny Marr
) con pulso y beats electrónicos. También se amplió el listado de músicos que grabó junto al dúo (Bartos, la gran Denise Johnson en coros, un par de bateristas y Guy Pratt, entre otros).
El resultado fue algo desparejo, sin embargo.
"Forbidden city"
es melancólica y arrastrada y
"For you"
levanta el pulso guiñándole un ojo a alguna gloria pasada de New Order. Entre los temas dance,
"Dark angel"
,
"Freefall", "If you´ve got love"
y
"Until the end of time"
no escatiman en grandilocuencia y giros euro- Dance. ¡La música para viajar en trenes de alta velocidad por toda Europa! Y nuevamente: a pesar de lo envejecidos que puedan haber quedado algunos sonidos y arreglos (la electrónica ya estaba pasando por otro lado en aquel 96) la música aquí es buena y completa.
En el medio,
"Raise the pressure"
deja algunas incógnitas con esos mid tempos guitarreros (
"One day"
,
"Out of my league"
) con sabor a poco. Con algunos temas menos, tal vez el disco hubiera redondeado mejor.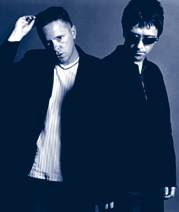 Bonus
* La ilustración del querubín de tapa de "Raise..." (a cargo de Johannes Handschin) recordaba a la portada de "Technnique", de New Order.
* Tres años más tarde los
Electronic
grabarían su último disco a la fecha,
"Twisted tenderness"
.