Después del chasco que significó artística y comercialmente "Metal machine music", en 1975 Lou Reed estaba otra vez a la deriva. "Sin dinero y sin guitarras" -como el propio Lou cuenta en las liner notes- la RCA lo puso en un hotel, y que el futuro decida.
Hasta que Ken Glancy, el presidente de la compañía, lo encaró y le hizo prometer que no volvería a grabar una segunda parte de "Metal machine...". Reed, por supuesto, le aseguró que así sería y Glancy le rentó estudio y músicos para que grabase simplemente un "disco de rock".
Ese álbum fue "Coney Island Baby", uno de los más sólidos del ex Velvet en aquellos desparejos 70´s. Acompañado de Bruce Jaw en bajo, Bob Kullick en guitarras, Michael Suchorsky en batería y el agregado de algunos amigos en coros, "Coney..." significó una especie de "regreso" de Lou a la canción urbana, a la poesía simple de las calles. Y por qué no, a una introspección que no volvería a aflorar, tal vez, hasta "The blue mask".

En lo musical, nada de extravagancias ni experimentos Avant Garde. El mid tempo remolón "Charley´s girl", con sus cencerros al frente, está entre lo más encantador y simple que alguna vez grabó Reed y el slide de "Crazy feeling" (junto a esos campaniles y coros) logran un efecto íntimo, embriagador. La canción habla de esos "flash" que te unen a un desconocido en medio de una noche de locura y juerga.
La meditabunda
"A gift"
dice
"soy un regalo para las mujeres de este mundo/ la responsabilidad descansa dura sobre mis hombros/ como los buenos vinos/ soy mejor a medida que crezco".
Cantadas por Reed, estas líneas, lejos de sonar pedantes o machistas, indican fragilidad, un atisbo de confianza, apenas.
Las mujeres (en este caso sin ángel, sin suerte) también son las protagonistas en
"Nobody´s business", "She´s my best friend"
(grabada con los Velvet en 1969) y la agitada
"Oooohhh baby"
, uno de esos rocks vulgares que sólo le perdonamos a Lou.
Para el final, la larga
"Coney Island Baby"
cierra el álbum con una amarga reflexión sobre el coraje y el precio que un outsider como el narrador tiene que pagar en una sociedad que te juzga todo el tiempo (aquí la metáfora que usa Reed hace mención al deseo de jugar, cuando sos chico, "para el entrenador del equipo de fútbol" y que todos tus compañeros se rían de vos). Sólo algunas líneas parecen ofrecer algún consuelo:
"but remember that the city is a funny place/ Something like a circus or a sewer/ And just remember different people have peculiar tastes..".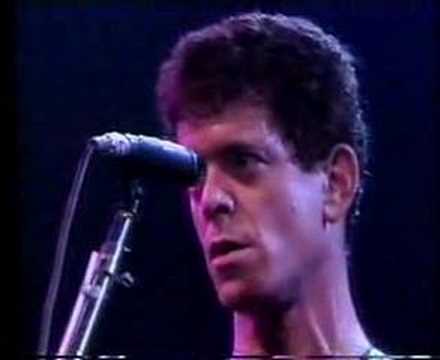 Bonus
Como dato para melómanos, la reedición en cd de
RCA
(2006) agrega jugosos bonus tracks con tomas inéditas de algunos de los temas de "Coney Island..." y versiones grabadas en 1975 de
"Nowhere at all"
,
"Downtown dirt"
y
"Leave me alone"
(que aparecería más tarde en "Street hassle"). En 4 de estos tracks el bajo estuvo a cargo de
Doug Yule
, ex Velvet.
L
ou Reed- discografía cercana