Cuando los Black Crowes aparecieron a comienzos de los 90 con "Shake your money maker" -su primer lp- nuestro costado cínico y descreído se encargó de subestimarlos lo suficiente. "Otra bandita Retro que quiere sonar como los Stones y los Faces, más algunos toques de Rock Sureño".
En algún punto era cierto. Pero desde entonces bastante agua pasó debajo del puente. Y el tiempo puso a la música de estos chicos de Atlanta obsesionados con los 60 en un lugar de aceptable perdurabilidad.
Cooptados rápidamente por el productor estrella -y coequiper de Rick Rubin- George Drakoulias (The Jayhawks, Primal Scream, entre otros) los Crowes ficharon para Def American Recordings. Y en 1992 alcanzaron su mejor marca con "The Southern Harmony and Musical Companion". Gran música, un sonido sublime y un puñado de temas que esquivaron con elegancia el paso del tiempo.
El comienzo en tándem con "Sting me" y "Remedy" es imbatible. El primero, un rockazo con mucho feeling soulero que explota lo mejor de la banda capitaneada por los hemanos Chris y Rich Robinson: groove tenso y suelto a la vez, dosificación de energía y brillo en detalles como pianos y percusiones (mérito absoluto de Drakoulias, que logra una preclaridad sonora envidiable). El segundo mantiene la tensión allá arriba, con magistrales manejos de una intensidad rockera "de manual".
¿Matices? Los Black Crowes también los tienen. Ahí está está la calma extendida y pastoral de "Thorn in my pride" y el bluesazo de transnoche"Bad luck blue eyes goodbye". Retro o no, esta música perdura. Sin quedarse atrás, el grupo recupera combustión a la altura de la stoniana "Hotel Ilnes" y "Black moon creeping". Para el cierre se despachan con una pequeña sorpresa: la versión etílica y de madrugada de "Time will tell", de Bob Marley.
Dedicado a Petela y Kabezoa...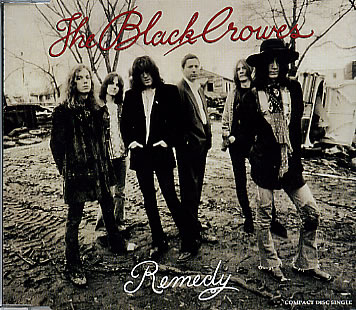 Black Crowes 1992
Chris Robinson (voz) Rich Robinson (guitarra) Marc Ford (guitarra) Johnny Colt (bass) Steve Gorman (drums) Eddie Harsch (teclados).
Discografía cercana
Shake your money maker (1990)- The Southern Harmony and Musical Companion (1992)- Amorica (1994).