Género: otro de los grandes discos de Elton en los 70.
Demás está decir que la década del 70 fue de altísimo nivel para Elton John. Sobre todo la primera mitad, con álbumes a esta altura clásicos como "Madman across the water" (1971) "Goodbye yellow brick road" (1973) "Don´t shoot me I´m only the piano player" (1973) o "Caribou" (1974) por nombrar sólo algunos.
En medio de esa catársis creativa, Elton sacó en 1972 "Honky Château". Un disco particularmente encantador por su feeling blusero y los aires a New Orleans que lo sobrevuelan. Para muestra bastan los primeros compases de "Honky cat" o la parodia sobre el suicido juvenil "I think I´m going to kill myself": si no se mueven tus patitas con esto, deberías ir al médico.
Grabado en los legendarios estudios Château d'Hérouville (Francia) que inspiraron su título, "Honky Château" fue el primer disco grabado íntegramente por la banda que solía acompañar a Elton en vivo: la alineación clásica con Davey Johnstone en guitarras (aquí también toca banjo y mandolina) Dee Murray en bajo y Nigel Olson en batería. Fue también un disco más despojado, prácticamente sin arreglos de cuerdas, más crudo y directo.
"Mellow"
es otro tema irrresistible, con esas cadencias entre el blues y la balada que John siempre manejó con maestría. Unos slides atmosféricos decoran la folkie
"Slave"
y la hermosa balada de aires Gospel
"Salvation"
:
aquí, como en el clásico
"Rocket man"
(que cierra la primera mitad) se lucen esos coros a tres voces con Johnstone, Murray y Olsson. Un sello de fábrica, de allí en más, de varios temazos clásicos de Elton.
¿Y de qué hablaba "Rocket man"? La letra -inspirada por un cuento breve de Ray Bradbury- cuenta algo así como "un día en la vida de..." un par de astronautas. Pero más allá de pintarlos como héroes o figuras inalcanzables, los describe como hombres comunes, con esposas que les preparan el bolsito antes de partir y que sienten- como cualquier humano- que van a extrañar su casa cuando estén lejos. La canción pareció dialogar, desde siempre, con "Space oddity", de Bowie. De hecho, ambas fueron producidas por Gus Dusgeon.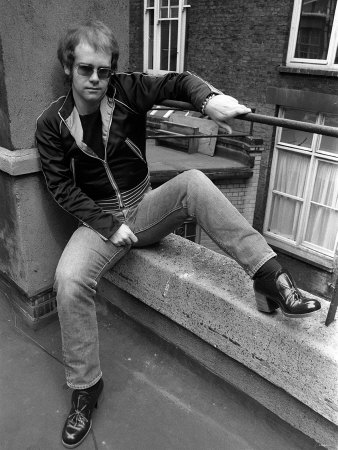 En fin, hay mucho talento en
"Honky Château"
. Mucha buena vibración puesta al servicio de unos temas que la rompen. Para el final,
"Amy"
contagia con su ritmo nervioso y
"Hercules"
es pura energia con sus coros y trepadas. El clásico
"Mona Lisas and mad hatters"
es la agridulce letra que escribió
Bernard Taupin
cuando sufrió una experiencia violenta, recién llegado a New York. La canción juega con la cita al "Spanish Harlem" de Ben E. King.
¿El mejor disco de Elton? Cabeza a cabeza, tal vez, con "Goodbye yellow brick road".
Discografía cercana
Madman across the water (1971)- Honky Château (1972)- Don´t shoot me I´m only the piano player (1973).