De las muchas metamorfosis de los británicos
The Orb
,
"Pomme fritz"
es una de las favoritas de la mansión
Ultravivido
. Al menos, cuando entra en su modalidad Techno Ambient.
Y es que este "pequeño álbum" grabado para el sello Island (en realidad, un EP dedicado a la gastronomía) todavía sigue hablando nuevas lenguas sin agotarse. Continúa abriendo fronteras, dejándonos librados a nuevas aventuras sonoras (desde siempre, el secreto de la mejor música Ambient).
Editado en 1994 después del descomunal artificio que fue "UF.Orb" y el doble en vivo "Live 93", "Pomme fritz" pareció liberar barreras rítmicas y las estructuras entre temas. De ahí su secreto: las fronteras son difusas, y como oyentes nos perdemos en el interior de estos fantásticos 41 minutos.
Los aires Dub de "Pomme fritz (Meat ´n veg)" nos meten suavemente en ambiente, pero a partir de "More gills less fishcakes" el clima empieza a enrarecerse con silencios, espacios de dudas, sonidos inciertos que parecen remitir al seminal Eno- Byrne de 1981.

Para "We´re pastie to be grill you" ya no sabemos si estamos ante un ejército de extraterrestres desbocados o ante duendecillos con ataque de verborragia. Toneladas de extraños samplers pasan de canal en canal, ruidos atmosféricos, alucinaciones sin origen preciso. Para no ahogarse en semejante abstracción sonora, el disco recupera espacios de música más "convencional", si se quiere, a la altura de "Bang´er n´chips" (una flotación noctámbula magistral) y la interespacial "Alles ist schoen".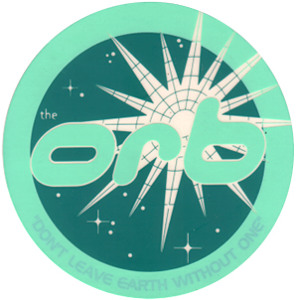 Island pareció bastante decepcionada con este primer trabajo de los
The Orb
para el sello y
Alex Paterson
los acusó de "no entenderlo". Al año siguiente el grupo grabaría el expansivo
"Orbus Terrarum"
y en 1997 otro gran álbum,
"Orblivion"
. Hasta allí, los años dorados de los capitanes más inspirados de la electrónica de los 90.
Alex Paterson, Kris Weston.