Hay discos que son fotografías de su época. Entre marzo y agosto de 1969 (el período en el que se grabó
"Volunteers"
, sexto disco de los
Jefferson Airplane
) el mundo vio pasar -entre otras cosas- Woodstock, la llegada del hombre a la luna, los asesinatos del clan Manson y la escalada militar en Vietnam por parte de Estados Unidos.
"Volunteers"
(el título barajado había sido "Volunteers of Amerika, pero fue censurado) fue también el "canto de cisne" de una época y unos ideales que ya acusaban el golpe de una dura realidad. En aquel 1969, los Jefferson eran algo así como
"la voz" del movimiento Hippie americano
. Eran escuchados y tenidos en cuenta. Y el disco los encontró en el pico de sus fuerzas creativas, tomando posición política.
Instalado en su San Francisco natal, el grupo (que aquí presentó por última vez su formación clásica) armó un disco expansivo y lleno de música inspirada. Zapadas, matices (como en la derivativa
"Hey Frederick"
) se sumaron a la habitual capacidad de la banda para armar buenas canciones y bellos arreglos corales.
"We can be together"
es una canción simplemente hermosa, abierta y llena de luz, aunque esconde su fiereza contestataria (con su ya clásico
"up against the wall motherfucker"
metido entre sus líneas). En el disco la canción abre el setlist, aunque fue la última que el grupo compuso en las sesiones. Canción de amor y de repudio visceral a la violencia, a la vez.
Varios amigos colaboraron en el disco, como Jerry García (que toca guitarra steel en la pastoral "The farm", una especie de oda ecológica) o el gran Nicky Hopkins -el pianista más buscado de los 60´s- que aquí inspiró las sesiones del disco con su presencia. Hay más buena música. "Good shepheard" es una balada Gospel tradicional, que el grupo adaptó. Las melodías y juegos vocales allí son, simplemente, sublimes. "Wooden ships" (compuesta junto a Stephen Stills y David Crosby, otros invitados ilustres) también aparece en el disco debut de CS& N y se extiende en el momento más introspectivo del disco junto a "Eskimo blue day".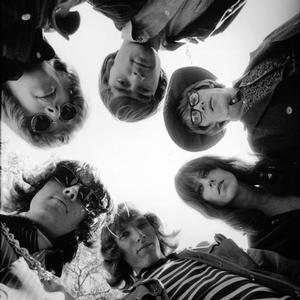 El cierre es a todo trapo con
"Volunteers"
. Lejos de hacerse cargo de las implicancias políticas de la letra (
"we are Volunteers of America"
)
Marty Balin
, uno de sus compositores, se encargó de restarle "romanticisimo" afirmando que se trató, apenas, de una ocurrencia del momento.
Jefferson Airplane- discografía cercana
Bless its pointed little head (1969) Volunteers (1969) Bark (1971).