Género: otro buen disco de los 70´s de "la mejor banda de R&B del mundo".

Seguimos revisitando el período 70´s de los Pretty Things.
Aquella banda pionera del R&B británico de mediados de los 60´s (prácticamente ninguneada en Estados Unidos) que supo evolucionar hacia un complejo cóctel de influencias. Aunque con suerte despareja en ventas y crítica.
Hoy le damos una oída a su lp de 1972,
"Freeway madness"
.
A comienzos de los 70´s la suerte le era esquiva a los británicos, a pesar de que su disco
"Parachutes"
(1970) fue elegido Disco del Año en Rolling Stone. Las ventas eran escasas y el grupo estuvo a punto de separarse. Fue, además, un período de cambios musicales y de formación:
"Freeway madness"
(primer álbum para Warner Bros) fue el primero sin el bajista
Wally Waller
y el segundo sin
Dick Taylor
, miembro fundador del grupo.
Adicionalmente, el quinteto incorporó algunos músicos externos para hacerse cargo de violas, cellos y violines que decoran -como es de esperar- las baladas (
"Over the moon"
, la acústica
"Peter"
). Pero en ese terreno, el "highlight" pertenece sin dudas al gran comienzo del disco, con la
power ballad
"Love is good"
. Aquí se aprecia todo el potencial del grupo para extraer la miel de esas tremendas melodías y extender el momento inspirado casi hasta los 7 minutos.
Otro punto fuerte sigue a continuación con el rockazo clásico
"Havana bound"
. En momentos así hay que darle la razón a
Van Morrison
cuando definió a los Pretty Things como "la mejor banda de R&B del mundo". Todo aquí es una lección de cómo rockear con estilo y manteniendo la energía sin resignar refinamiento. Atención al registro cuasi punk de
Phil May
en voces.
Luego el set baja en intensidad con el mid tempo perezoso (aunque rico en armonías vocales)
"Rip Off Train"
y el grupo se mete con el blues rock a la altura de
"Religion's Dead"
, acelerándose al final.
Los aires pastorales llegan de la mano de
"Country road"
, una especie de eslabón perdido, tal vez, entre los Allman Brothers y Big Star. El grupo recupera el filo con el groove hardrockero de
"Onion Soup"
: otra impecable lección sobre dinámicas, refinamiento y pulso rockero.
Aún con sus baches,
"Freeway madness"
es un disco disfrutable de comienzo a fin. El siguiente,
"Silk torpedo"
levantaría aún más la puntería con un set más afilado y mejores temas.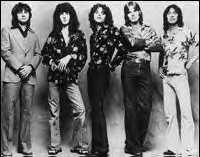 The Pretty Things 1972
Phil May (Lead vocals) Pete Tolson (Guitar) John Povey (Keyboards/ Vocals) Stuart Brooks (Bass) Skip Alan (drums).
Discografía cercana