En 1987 el guitarrista newyorkino
Kurt Ralske
formó
Ultra Vivid Scene
. Tras ser fichado rápidamente por el sello británico 4AD, editó el EP "She screamed", y en 1988 su homónimo álbum debut.
Ultra Vivid Scene fue un proyecto casi unipersonal de Ralske, que en este primer lp -sin ir más lejos- produjo, grabó y tocó todo por sí mismo. Mezcla casera de máquinas de ritmo y guitarras estelares, las canciones a veces suenan susurradas, a veces se energizan, envasadas en una estética retro- futurista, indudable mérito del arte de 4AD.
Compositivamente, sin embargo, Ralske todavía mostraba algunos baches en este disco debut. De allí que los acelerados tracks iniciales ("She screamed", "You didn´t say please") suenen algo caducos a nivel sonoro, y no sean la mejor carta de presentación. La cosa mejora en "Crash" (inspirada en la novela de J.G. Ballard) "Mercy seat" y "Nausea", con su amplitud sideral.
Más allá de las inescrutables letras (mezcla de misticismo, iconografía religiosa y etcéteras) en estas canciones ya empieza a sobresalir
el original trabajo de Kurt sobre las guitarras
, más preocupadas en alcanzar dimensión espacial que en ser el vehículo tradicional para riffs o arpegios. Tal vez allí radique el mayor aporte y originalidad musical de UVS.
Pero volviendo al disco, en mitad del set los temas mas lentos cohesionan mejor y
"A dream of love"
,
"Lynn- Marie #1"
,
"This isn´t real"
y
"The whore of god"
logran colarse en nuestro inconciente emocional, sosteniéndose en un presente de escucha que no se oxida. Esa atemporalidad detenida en un futuro- presente llegaría a la perfección formal en el álbum siguiente,
"Joy: 1967-1990"
.
Vista a la distancia, la búsqueda de UVS suena original para aquellos áridos años de fines de los 80. Todavía no existían las etiquetas "alternativo" o "post rock" para denominar aquella música de vanguardia. Y sólo algunos pocos nombres (My Bloody Valentine, Primal Scream, Spectrum) estaban pensando en "otra" música posible a nivel estelar.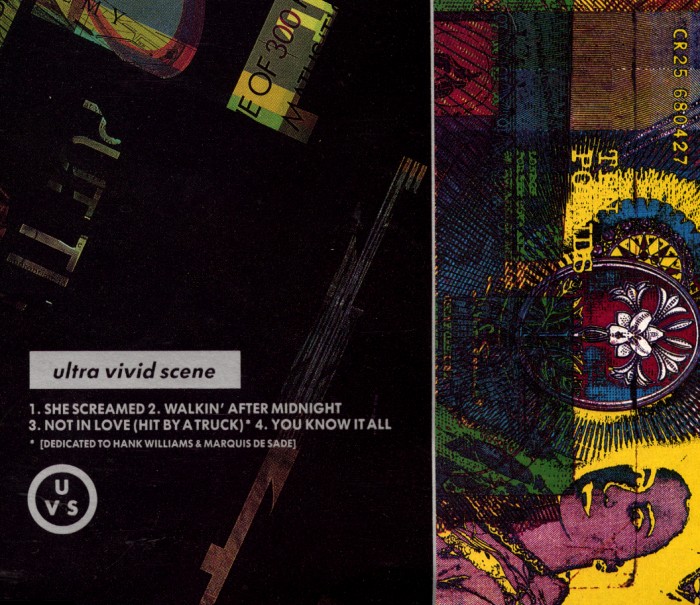 La reedición en cd de Sony (1992) agrega la versión extendida de
"Mercy seat"
grabada por Ralske en 1989 e incluida en un 12".
Ultra Vivid Scene- discografía
Ultra Vivid Scene (1988)- Joy (1967-1990) (1990)- Rev (1992).