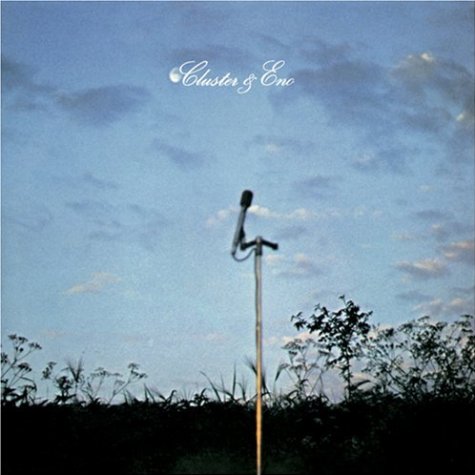 Cuenta la historia que a mediados de los 70
Hans-Joachim Roedelius
y
Dieter Moebius
-miembros de
Cluster-
se retiraron junto a Michael Rother al medio del campo. Más precisamente a las afueras de Frost, en Bevern, Alemania.
El objetivo del grupo (que terminaron bautizando Harmonia) consistía en alejarse de las grandes ciudades y dedicarse a desarrolar la música contemplativa que sonaba en sus cabezas. Tras varias señales de admiración mutua, en 1976 recibieron la visita de Brian Eno, que pasó unos días con ellos grabando, charlando y -según se cuenta en el documental de la BBC sobre Krautrock- "jugando al ping pong".
La colaboración entre estos músicos (todos ellos pioneros en el uso de sintetizadores y en el concepto de una música Ambient) continuó en junio de 1977 cuando los Cluster se unieron a Eno en los estudios del célebre productor Kraut Conny Plank en Colonia. El primer material editado en base a esas sesiones (de las que también participaron Holger Czukay y Asmus Tietchens) fue "Cluster & Eno".
Lo mejor está al comienzo y al final de este set de 36 minutos, que combina las búsquedas de ambas partes: el trabajo sobre texturas y sonidos procesados de Eno, por un lado, y el énfasis en el loop y la repetición de los germanos, por otro. En el comienzo, decíamos,
"Ho Renomo"
es pura belleza suspendida, etérea. Y es la marca sonora por la que tal vez recordemos este disco. El tema dialoga con aquellas grabaciones de Harmonia del 76 rescatadas y editadas como
"Tracks and traces"
por el sello Rykodisc en 1997.
Le sigue otro gran momento de flotación con
"Schöne Hände"
(sí, todos los títulos están en alemán) para entrar luego en terrenos más "mundanos", si se quiere, con
"Steinsame"
y
"Die Bunge"
. Hacia el final, la música vuelve a ganar en lejanía y en misterios con esos cinco minutos celestiales de
"Für Luise"
.
Una música, definitivamente, de crepúsculos y atardeceres quietos.
Chequear también:
* Eno, Moebius, Roedelius, After the heat (1978).
* Brian Eno, Discreet music (1975).