Como todos sabemos,
"Lodger"
fue el último de los tres discos que
David Bowie
grabó en colaboración con
Brian Eno
. Los últimos ejercicios experimentales de una relación que -al parecer- ya venía agotada hace tiempo.
Aquel
partnership
había comenzado a la manera de un exilio creativo en Berlín hacia 1977, con dos discos de ambiente gélido y atmósfera de Guerra Fría (los clásicos
"Low"
y
"Heroes"
). Ambos muy influenciados a su vez por el krautrock alemán de NEU! y Kraftwerk.
Usualmente considerado parte de aquella "Trilogía Berlín",
"Lodger"
en realidad fue grabado en Suiza y New York. Para 1978 Bowie venía embarcado en un tour mundial que quedó registrado en el doble en vivo
"Stage"
, y en medio de la gira (y con la misma banda, más el agregado de Eno) comenzó a grabar lo que sería su próximo disco.
En lo musical,
"Lodger"
abandona la monumentalidad sonora y paisajística de los discos previos y apuesta a una cosa más suelta. Como casi todos los discos de Bowie de este período, totalmente ajeno al "mercado" del momento: tanto el Disco como el punk o la New Wave. O lo que sea.
Hay mucha voladura aquí: en la instrumentación, en la dejadez casi glamorosa que exhiben los temas, tan descarados ellos. Mucha libertad en esos arreglos y en las guitarras completamente fuera de foco de
Adrian Belew
y
Carlos Alomar
(que en varios temas tocaron sin conocer las notas o sobre pistas desconocidas, entre otros experimentos aleatorios).
Casi todas las canciones fueron compuestas por Eno y Bowie. Algunas reviews afirman que la primera mitad del disco habla de "viajes": ahí están
"Fantastic voyage" -
una canción tremenda, con una flotación misteriosa a cargo de Eno- y
"African night flight"
, inspirada en un viaje de Bowie a Kenia. Para muchos, el antecedente, inclusive, de "My life in the bush of ghosts" en esa mixtura Afro/ occidental. El gancho de
"Move on"
está en esos impresionantes coros a cargo de
Tony Visconti
y el propio Bowie. Un gran comienzo del álbum.
Siguiendo con los sonidos exóticos,
"Yassassin"
(una especie de reggae bizarro) vuela por el aire con esos violines de inspiración turca. Y a partir de
"Red sails"
empieza el bombardeo de los temas más "directos", si se quiere. El background del tema es absolutamente deudor de los NEU!, por cierto.
"D.J"
suena suelta -como tocada a los tropezones- y anticipa casi 20 años y de forma irónica el culto a los amos de la pista de baile (con su célebre
"I am the DJ/ I am what I play/ I´ve got believers"
entre los chirridos alucinados de la dupla Belew- Alomar) Temazo.
"Look back in anger"
va directo al Canon Bowie y
"Boys keep swinging"
(con los músicos en roles invertidos: Alomar en batería y Dennis Davis en bajo) deja al pasar una última cita a "Heroes" en sus enormes guitarras atmosféricas: otro gran tramo de "Lodger". Para el cierre, el vampiro Bowie relee "Sister midnight" (de Iggy circa "The idiot") como
"Red money"
.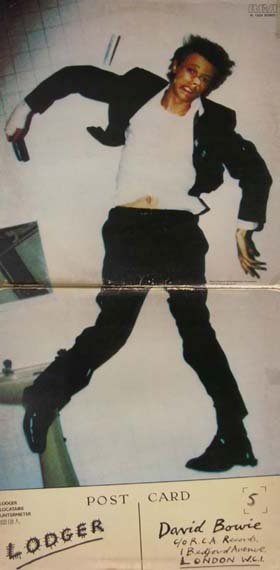 La reedición en CD de Ryko de 1991 agrega dos bonus: el inédito
"I pray, olé"
y una reversión de
"Look back in anger"
grabada en 1988.
David Bowie- Lodger (RCA, 1979)
Producido por Tony Visconti & David Bowie. Recorded: Mountain Studios (Montreux, Suiza) septiembre 1978/ Record Plant Studios, New York, marzo 1979.
Bowie- discografía cercana
Stage (live, 1978)-
Lodger (1979)
-
Scary monsters (and super creeps) (1981)
.